Hoofd
Stablecoins zijn cryptocurrencies met een vaste of stabiele wisselkoers.
Ze zijn een universele rekeneenheid, nuttig voor de handel, de opslag van kapitaal en de bescherming van beleggingsportefeuilles tegen de volatiliteit van cryptocurrency.
Stabiele munten kunnen verschillende bronnen, activa als onderpand en mechanismen voor waardebehoud hebben.
Er is geen eenduidige classificatie van stablcoins, maar onderzoekers delen projecten in op basis van criteria als centraliteit van de emittent, reservegraad, activaklasse als onderpand en andere.
Waar zijn stabelcoins voor?
Populaire stabelcoins zijn een liquide activum: ze zijn in grote hoeveelheden beschikbaar op bijna elk platform.
Populaire Stablecoins zijn ook een universele eenheid van uitwisseling en kapitaalopslag onder cryptobeleggers en handelaren. Ze zijn gemakkelijker te verhandelen in paren met andere cryptocurrencies dan met fiatvaluta's. In tegenstelling tot fiat zijn staplecoins sneller en gemakkelijker over te dragen tussen rekeningen en adressen.
Bovendien zijn stabelcoins een afdekking tegen volatiliteit in een cryptocurrency-portefeuille en worden ze actief gebruikt in DeFi-toepassingen.
Wat zijn enkele populaire stablecoins?
Er zijn honderden stablecoins op de cryptocurrency markt. Hier is een lijst van de top 10 stabelcoins op basis van kapitalisatiegrootte (CoinMarketCap gegevens per augustus 2022):
Tether (USDT);
USD Coin (USDC);
Binance USD (BUSD);

Dai (DAI)

;

TrueUSD (TUSD);

Pax Dollar (USDP);
USDD (USDD);
Neutrino USD (USDN);
Fei USD (FEI);
Gemini Dollar (GUSD).
Aan welke activa zijn stabelcoins verbonden?
In de crypto-industrie zijn de meest voorkomende stapelmunten die welke gebonden zijn aan de prijs van de dollar. Het bekendste voorbeeld van zo'n munt is Tether (USDT). 1 USDT is gelijk aan $1 en kent minimale afwijkingen van deze prijs. Er zijn stabiele cryptocurrencies gebaseerd op andere valuta, zoals Euro – Stasis Euro (EURS), of gebaseerd op Singapore dollar – XSGD.
Sommige Stablecoins kunnen worden gekoppeld aan de prijs van een fiatvaluta, maar worden gebruikt om een cryptocurrency te beveiligen. In dit geval kan de stabiliteit van de prijs van de token worden bereikt door over-allocatie of een slim arbitrage-algoritme. Het bekendste voorbeeld van een cryptocurrency reserve steablecoin is MakerDAO's DAI.
Het is ook mogelijk om aan goud gekoppelde stabelcoins te kopen – met name PAX Gold (PAXG) en Tether Gold (XAUT). In tegenstelling tot traditionele op goud gebaseerde instrumenten – zoals ETF's – brengen emittenten van staplecoin geen beheerskosten in rekening, en de afwikkeling van cryptocurrency is sneller en goedkoper. Dergelijke munten zijn echter niet erg populair.
Wat zijn de verschillen tussen stabelcoins?
Elke stabelcoin heeft zijn eigen systeem dat voor zijn waarde zorgt. Er is geen algemeen aanvaarde classificatie van stablecoins, maar in het algemeen kunnen zij van elkaar worden onderscheiden op basis van enkele basiscriteria:
De klasse van activa in reserve – fiat of cryptocurrency.
Reserve norm. Reserves kunnen een fractie van de waarde van alle tokens van een bepaalde Stablecoin in omloop dekken, maar ook een fractie of zelfs meer;
De methode van prijsbinding – ofwel alleen reserves (meestal van toepassing op gecentraliseerde projecten), ofwel reserves en algoritme (deze aanpak wordt gebruikt bij algoritmische stablcoins).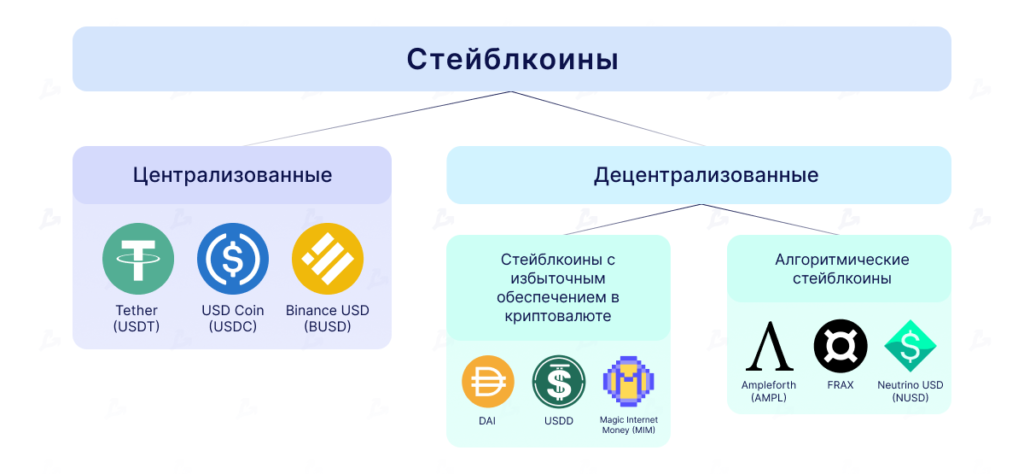 Wat zijn gecentraliseerde stablcoins en wie beheert ze?
De meeste populaire stablcoins worden uitgegeven door gecentraliseerde emittenten. Elk van hen beheert een fonds dat reserves van verschillende activa en effecten aanhoudt. Het fonds wordt regelmatig door een onafhankelijke instantie gecontroleerd om na te gaan of de opgegeven omvang en samenstelling van het fonds overeenkomen met die van het werkelijke fonds.
Tether, dat de grootste USDT-stapel naar kapitalisatie beheert, publiceert de resultaten van dergelijke rapporten op zijn website. Volgens de audit van augustus 2022 bestaan de reserves van Tether uit Amerikaans schatkistpapier, contanten, handelspapier en fondsen voor de valutamarkt.
De rekeningen van de emittent van BUSD, een stablecoin die is gekoppeld aan de Amerikaanse dollar en wordt uitgegeven door de beurs Binance, worden eveneens gecontroleerd.
Stablecoin-exploitanten zijn entiteiten die in een groot rechtsgebied gevestigd zijn. De tweede meest gekapitaliseerde dollar-stablecoin, USDC, wordt beheerd door een consortium van Amerikaanse bedrijven, Circle en Coinbase. Zij beheert de reserves, die hoofdzakelijk bestaan uit contant geld en kortlopende Amerikaanse staatsobligaties. Het bedrijf dat de BUSD muntreserves beheert is gevestigd in de staat New York.
De uitgifte van een gecentraliseerde stablcoin valt uitsluitend onder de verantwoordelijkheid van de uitgever ervan – hij verhoogt of verlaagt de circulatie van de munt afhankelijk van de hoeveelheid reserves in het onderpand.
Wat zijn de voor- en nadelen van gecentraliseerde stablcoins?
Enerzijds zijn gecentraliseerde stablcoins zeer stabiel, omdat hun prijs voor 100% wordt gedekt door activa met een lage volatiliteit. Bovendien zijn ze liquide, wat betekent dat ze beschikbaar zijn op bijna elk handelsplatform voor cryptocurrencies. Stablecoins zijn ook populair voor onderlinge verrekening en kapitaalopslag. Ze zijn handig geplaatst als basisvaluta in handelsparen op cryptocurrency beurzen.
Anderzijds is centralisatie een zwak punt van dergelijke munten. Eventuele problemen met de organisatie die de reserves controleert, waaronder claims van regelgevers en manipulatie van de rapportage, kunnen problemen veroorzaken voor alle houders van Stablecoin. Bovendien is het onduidelijk hoe een exploitant van stablecoins de reserves precies zou kunnen gebruiken.
Een goed voorbeeld is USDT. Begin 2019 beschuldigde het Openbaar Ministerie van New York de Bitfinex-beurs ervan het kapitaal van zijn filiaal Tether te gebruiken om zijn eigen verlies van gebruikersfondsen te compenseren. Het ging om 850 miljoen dollar, waartoe het platform de toegang verloor nadat het was overgedragen aan de Panamese verwerkingsdienst Crypto Capital.
Bitfinex betaalde de hoofdsom pas begin 2021 terug aan Tether en schikte al snel met de autoriteiten. Tether werd echter aangeklaagd door beleggers, die het bedrijf beschuldigden van "illegale en misleidende" praktijken. In april 2022 pleitte de verdachte van Crypto Capital schuldig aan alle aanklachten, waaronder een aanklacht wegens 'schaduwbankieren'.
Wat zijn algoritmische stablecoins?
Cryptocurrencies, in plaats van traditionele instrumenten, bieden stabiliteit aan sommige stablecoins.
Aangezien de waarde van digitale activa drastisch kan schommelen, wordt het een uitdaging om 100% waarde te garanderen. Een manier om dit te doen is de implementatie van een gedecentraliseerd beheersysteem, evenals een speciaal computeralgoritme dat de waarde van het goed handhaaft op basis van bepaalde principes.
Wat voor soort algoritmische steblecoins zijn er?
Een manier om de duurzaamheid van een algoritmische stablcoin te waarborgen is door middel van overtoewijzing, waarbij de hoeveelheid onderpand groter is dan de waarde van de gehele tokenuitgifte. De populairste steablecoin is DAI. Het is een cryptocurrency die door elke gebruiker kan worden uitgegeven via het MakerDAO protocol.
Daarbij moet hij zijn cryptocurrencies vergrendelen als onderpand, waarvan de dollarwaarde meer dan 100% bedraagt van het bedrag van de in ruil uitgegeven DAI-tokens. Dit is om te voorkomen dat het volledige onderpand verloren gaat bij een sterke daling van de prijs van cryptocurrencies. Als de verhouding tussen het onderpand en de hoeveelheid uitgegeven munten onder de norm valt, vindt een gedwongen liquidatie van de positie van de gebruiker plaats.
DAI is inderdaad een stabiele munt, maar zijn duidelijke nadeel is de lage kapitaalefficiëntie door een te hoog onderpand.
De makers van sommige stablcoins hebben geen controle over de uitgifte – elke gebruiker kan ze uitgeven. De prijs wordt gereguleerd door de acties van economische agenten, niet door de acties van een gecentraliseerde organisatie. Stabiliteit wordt in dit geval geboden door een bijkomende crypto-activa, die de liquiditeit van de stablcoin garandeert.
De populairste algoritmische stablcoin is UST van het Terra-project. De prijs ervan werd vastgehouden door houderijarbitrage, dat wil zeggen door een mechanisme van vraag en aanbod. De activa die voor de UST-prijs zorgden, waren de eigen munt van het project, LUNA genaamd.
UST was lange tijd de grootste algoritmische stablecoin, maar in het voorjaar van 2022 leidde een reeks gebeurtenissen tot het verlies van de koppeling aan de dollar, waarna het hele project feitelijk ophield te bestaan.
Andere ongebruikelijke prijsmodellen zijn Ampleforth (AMPL), Fei USD (FEI), Frax Finance (FRAX) en Magic Internet Money (MIM).
Hoe zullen stabelcoins evolueren?
Na de mislukking van Terra heeft de cryptocurrency markt, op enkele uitzonderingen na, het vertrouwen in algoritmische stackcoins verloren. Het belangrijkste succesvolle project in deze richting is de DAI van MakerDAO.
Gecentraliseerde projecten zoals Tethere en USDC blijven belangrijke spelers in het stablcoin-segment. Een aantal staten, waaronder de Verenigde Staten en de Europese Unie, zijn echter van plan uitgebreide regelgeving in te voeren voor uitgevers van stablecoins, wat het gebruik ervan zou kunnen bemoeilijken.
Stablecoins worden regelmatig bekritiseerd door regelgevers en overheidsinstanties. Eind 2021 bracht het Amerikaanse ministerie van Financiën een rapport uit over de risico's van stablecoins, waarin werd gewezen op de ondoorzichtigheid van hun reserves en ze werden beoordeeld als een bedreiging voor beleggers. Volgens de Fed vormen stablecoins een risico vanwege mogelijke problemen om ze om te zetten in fiat.
Wat moet ik nog meer lezen?